KEY TAKEAWAY: Understand drug testing cut-off levels for various test types, including urinalysis, oral fluid, and hair follicle testing.
---
---
Most people are familiar with cut-off levels in relation to the legal limits for drivers with regard to alcohol consumption. In most provinces, you can face criminal charges if you have a blood alcohol concentration of 0.80 or more.
However, cut-off levels are also a critical part of drug testing. Like with alcohol testing, cut-off levels indicate when the concentration of a drug within a person's system indicates a safety risk to themselves or the public. Cut-off limits are the same whether a company uses point-of-care testing (POCT) or lab-based testing. However, there are significant differences in cut-off levels for urine testing, oral fluid testing, and hair follicle testing.
Why set cut-off levels?
Setting cut-off limits safeguards both the safety and fitness-for-duty of employees. It also ensures that employers treat all workers equally when it comes to drug testing. Companies will typically include information about cut-off levels in their workplace drug and alcohol policy, further ensuring fairness through their drug testing programs.
Essentially, if a test indicates a concentration of a drug that is equal to or over the cut-off level, the test is considered positive. If it is below this cut-off level, it is considered negative. Cut-off levels ensure a consistent measure of drug use.
What is measured in a drug test?
Drug tests measure the presence of drugs or metabolites in hair follicles, oral fluid, or urine. A metabolite is a by-product produced when the body breaks down or metabolizes a substance. This process occurs as something like a drug is ingested and passes through the body's various digestion and excretion systems.
As the body breaks down a drug, it turns into different substances. These are metabolites. For example, a common metabolite of cocaine is benzoylecgonine, while a common metabolite of benzodiazepines is 4-hydroxyalprazolam. Drug tests look for concentrations of these substances.
Since everyone metabolizes drugs in the same way, metabolization is a predictable process. Cut-off levels cannot determine when a worker used a drug, how much of a drug they used, or even how potent it was. However, the presence of a drug metabolite is a reliable indicator that a person used the parent drug of that metabolite. The cut-off level helps determine if the level they ingested poses a safety risk. [Learn more about metabolites in "Cannabis Metabolites: What You Need To Know"].
Metabolites are also crucial to drug testing because they will often remain in the body long after the parent drug. This means that drug tests that look for metabolites are far more successful in identifying illicit drug use and, of course, the safety concerns related to consumption.
Several factors determine cut-off levels, including windows of detection for specific types of tests. [Learn more in "6 Factors That Influence How Long Cannabis Stays In Your System"]. For example, drug metabolites can be detected in hair for a much longer time than urine, but because of this, hair is also not a reliable indicator of sporadic use. It is, however, a preferred method for follow-up testing as it can be used to detect historical drug use. [Learn more about one of the most common types of drug test, the 8-panel drug test, here].
What determines a drug testing cut-off level?
In Canada and in the U.S., any company not bound by U.S. Department of Transportation (DOT) regulations can set its own acceptable cut-off levels. However, most companies base their cut-off levels for drug testing programs on either the Canadian Model for Providing a Safe Workplace or the DOT concentration limits.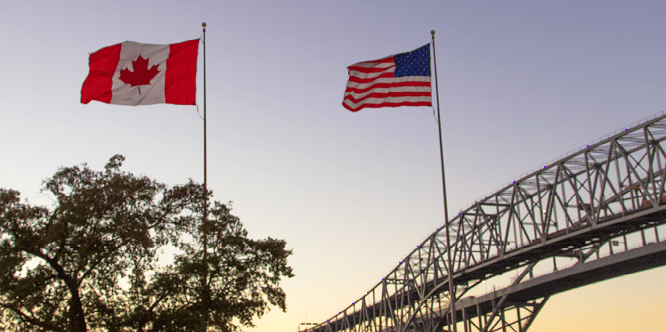 Do you have US operations?
SureHire is proud to offer testing services in the US, including:
• Express and Lab-Based Drug Testing
• Alcohol Testing
• Department of Transportation (DOT) Random Testing
• Non-DOT Random Testing
• Lung Health Monitoring and Respirator Fit Testing
• Audiometric Testing
• Background Checks
There are generally two cut-off levels. The first is the screening concentration. If the sample exceeds this limit, the lab or tester submits it for a confirmation test. Cut-off levels for this second confirmation test are generally slightly lower. There are different cut-off levels for urine, oral fluid testing, and hair follicle testing. Cut-off levels are expressed in nanograms (ng) per millilitre (mL) for urine or oral fluid testing and in picograms (pg) per milligram (mg) for hair testing.
Here are the screening and confirmation levels employed for urine and oral fluid testing in the Canadian Model.
Urine Drug Cut-off Limits
Oral Fluid Testing Limits
Drug/Classes of Drugs
Screening Concentration (ng/ML)
Confirmation Concentration (ng/ML)
Marijuana THC
4
2
Cocaine metabolite
– Cocaine or Benzoylecgonine
20
8
Opioids
– Codeine
– Morphine
– Hydrocodone
– Hydromorphone
– Oxycodone
– Oxymorphone
40

40
40
40
40
40
40
6-Acetylmorphine
4
Phencyclidine
10
10
Amphetamines
– Amphetamine
– Methamphetamine
– MDMA
– MDA
50

50
50
50
50
Hair follicle drug testing is used in Canada, but the Canadian Model is silent on them. However, here are some common cut-off levels for hair follicle testing.
Hair Follicle Testing Limits
Drugs/Metabolite
Screening Concentration (pg/mg)
Confirmation Concentration (pg/mg)
Cannabis
– delta-9- tetrahydrocannabinol-9-carboxylic acid (THCA)
1
0.30
Cocaine
500
500
Codeine/Morphine
300
300
Amphetamine
500
500
How SureHire Can Help
SureHire can help recommend appropriate cut-off levels for your drug testing program and offers urine, oral fluid, and hair follicle testing as well as POC/rapid testing and lab-based testing. Further, our facilities support all reasons for testing, including random testing, pre-employment testing, post-incident testing, pre-access testing, return-to-duty testing, and reasonable cause testing. You can also find numerous supports for your drug testing programs, from DOT-compliant software that ensures randomization to Reasonable Suspicion Training.
---
You May Also Be Interested In...