TAKEAWAY: Workplace-related musculoskeletal disorders (MSD's) come in many forms and can affect any part of the body. The Oil & Gas industry faces unique challenges with respect to the risk prevention of MSD's. Find out how you can protect your workforce.
---
---
Workplace-related musculoskeletal disorders (MSD's) come in many forms and can affect any part of the body. They encompass various conditions affecting muscles, bones, joints, nerves, and other systems. no matter your industry, as an employer you should be interested in decreasing the prevalence of workplace-related MSD's. There is a well-documented negative impact of MSD's on worker health and productivity and this can affect your business's bottom line.
Job roles in the oil and gas industry can pose a significant risk for MSD's. A range of hazardous materials and working conditions continuously expose workers to risk. However, there are steps you can take to mitigate this risk among your workforce. First, it is essential to understand the most prevalent types and causes of musculoskeletal disorders in the oil and gas industry. From there, you can adopt a proactive prevention approach.
Fitness-to-Work Testing FAQs
SureHire's Fitness-to-work (FTW) evaluations help employers understand an individual's overall health status and provide recommendations for work accommodations and/or restrictions when necessary. Should an incident occur, employers can also use the information provided through our FTW when applying for cost relief through their province's worker's compensation board.
Check out this frequently asked questions video and contact us today to request a quote.
Most common musculoskeletal injuries in the oil and gas industry
There are many different occupational categories and job roles within the oil and gas industry. The maintenance sector is significant, encompassing job roles such as mechanics, electricians, scaffolders, painters, and welders. Other sectors include catering, drilling, and administration. The type and prevalence of MSD's vary based on industry, sector, and the job itself, so it is critical to understand the MSD's most relevant to your workers. Studies can offer insights into injury prevalence across different industries.
A 12-year study of Norway's offshore petroleum industry identified that MSD's were the most commonly reported category of work-related diseases, with more than 3000 new MSD cases reported over this time. Disorders of the upper limb were the most frequently affected part of the body (53%), followed by back disorders, then lower limb disorders. Dominant occupational categories for MSD's were maintenance work (40%) and catering (21%). A study of 172 workers in the natural gas industry showed that nearly 50% had musculoskeletal pain. Lower back pain had the highest prevalence, followed by knee pain. A cross-sectional survey of 60 Iranian oil field workers showed that the most prevalent MSD's were knee pain (71%), lower back pain (62%), and shoulder pain (52%).
These studies highlight the high incidence and varied nature of MSD's in the oil and gas industry. All job roles, from technical and supervisor roles to operations, management, and engineering, carry MSD risk. When you understand the most common causes of MSD's, you can develop a plan to minimize any associated risks your workforce may face.
Most common causes of musculoskeletal injuries in the oil and gas industry
Although injury causes are dependent on several factors and vary between industries, sectors, and roles, there are several commonly identified causes. Prevention begins with understanding these common causes and then determining the relevance to your workplace and employees. In the 12-year Norwegian study, high physical workload, repetitive work, walking on hard surfaces, and climbing stairs and ladders were the most frequently reported probable causes of MSD's. Below is a summary of some of the main contributing factors to MSD's that may be relevant to the oil and gas industry.
Awkward or uncomfortable postures; are often a result of poor workplace ergonomics.
Physical stress resulting from repetitive movements, high workload, prolonged static postures, vibration, or a fast pace of work
Slips, trips, and falls, many of which could be caused by inadequate workplace health and safety protocol.
Personal health factors such as age, smoking, illnesses, injury history, and physical fitness can also contribute to MSD risk.
OHS Alberta offers a variety of resources for employers (and workers) on the prevention of slips, trips, and falls. Below are some quick access links to helpful resources on hazards and controls, reporting protocol, and other tips, tricks, and best practices for prevention.
Musculoskeletal injury prevention tips for employers in the oil and gas industry
Employers should first identify workplace hazards and other risk factors for MSD's relevant to their workers. Look at company-wide risk factors and risk factors associated with each job role. Determine which job roles have a high physical workload and the level of risk for each job role. Note tasks such as lifting, pushing, pulling, and twisting. Prolonged static postures, repetitive movements, and vibration from tools (such as those used for drilling) can also increase workers' risk for MSD's.
Then identify workplace hazards that could be posing an increased risk for MSD's. Hazardous chemicals and gases and noise and temperature extremes are common hazards in the oil and gas industry. Look at equipment and machinery used by workers, workstation setup, and other environmental factors that pose an increased risk for MSD's. Worker fatigue is a significant risk factor that all employers should consider, regardless of industry, sector, or job role. Employers can identify risks and hazards and then take steps to minimize them.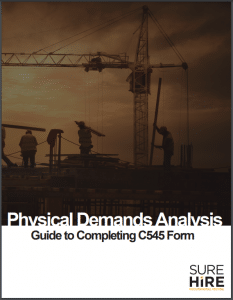 SureHire's Fitness-to-Work Program: Completing a Physical Demands Analysis
A PDA is a detailed breakdown of all job tasks performed by a worker in a specific job position. It evaluates the position, not the worker. PDAs are commonly used to determine the compatibility between a worker and a position as well as determine appropriately modified duties in a return-to-work plan.
Prior to initiating a Fitness-to-Work program, companies can submit an existing PDA to SureHire or can complete the C545 form provided by WCB Alberta.
Access SureHire's guide to completing the C545 form.
Review and adjust workplace policies and procedures as required
Every workplace should have a solid workplace health and safety policy related to common risk factors such as workplace hazards. It is important that employers periodically review their policies and make adjustments as needed. Unacceptable working conditions are a common and modifiable risk factor associated with MSD's. One of the most prevalent and avoidable risk factors is worker fatigue. Examples of workplace policies and procedures to review and adjust should be related to this understanding. They could include the following:
Regular breaks and shorter shifts to reduce employee workload and fatigue. Adequate staffing is needed to achieve this.
Storage and handling procedures for chemicals
Defined and enforced limits on lifting loads
Variation in job tasks to reduce repetition
Standards on safe footwear and other personal protective equipment such as hard hats, goggles for eye protection, and earmuffs to reduce noise exposure.
Employers can then determine any required equipment investment. For example, employees may need mechanical assistance for load reduction.
Proactive Risk Mitigation Starts with Proper Education & Training
SureHire has partnered with Rebel Sleep Institute to provide high-quality online training for employers looking to reduce the risk of fatigue-related injury and fatality at the workplace. This highly interactive, self-directed program is a solid introductory course for employees and leaders.
Carry out an ergonomic assessment and optimize ergonomics in the workplace
Because poor workplace ergonomics can increase the chance of MSD's, employers can identify and adjust the aspects that could adversely affect their employees. Examples include:
Ensuring each employee has the correct biomechanical setup to minimize MSD risk factors such as awkward postures and prolonged static postures. Sit-stand workstation options are one example.
Easy access to tools and equipment to reduce the chance of awkward positions and reduce physical stress
Quality tools and equipment that help reduce the risk of MSD's. Examples could include adjustable equipment, appropriate padding, and lighter equipment to reduce physical stress.
Learn more in: https://www.surehire.com/how-to-train-your-employees-on-safe-lifting-techniques/
Education and training for employees
Lifestyle factors such as smoking and physical activity status are risk factors for MSD's so employers in the oil and gas industry should consider appropriate workplace health and wellbeing initiatives. Ideas include training on lifting techniques and education on the importance of taking regular breaks, stress reduction, and good nutrition. It is also imperative to train employees to handle chemicals and use equipment safely. Adopt an ongoing rather than a one-off approach to training with regular refresher courses on topics such as health and safety.
Critical Strength & Mobility Testing: A Guide for Employees Undergoing SureHire's Fitness-to-Work Program
Participants frequently ask us what they can expect from our Fitness-to-Work testing process. While there are many components involved, the critical strength and mobility portion of the assessment is the subject of many frequently asked questions.
Discover the purpose, duration, and evaluation measures taken during each component of full critical strength and mobility test, and help set your employees or prospective workers up for success.
Conclusion
Fitness-to-work testing is one proactive approach to reducing the prevalence of musculoskeletal injuries in the oil and gas industry. It helps ensure that workers' job tasks are appropriate by evaluating a job candidate's physical capabilities against their job requirements. From there, employers learn how to adapt work tasks as required.
---
You May Also Be Interested In…