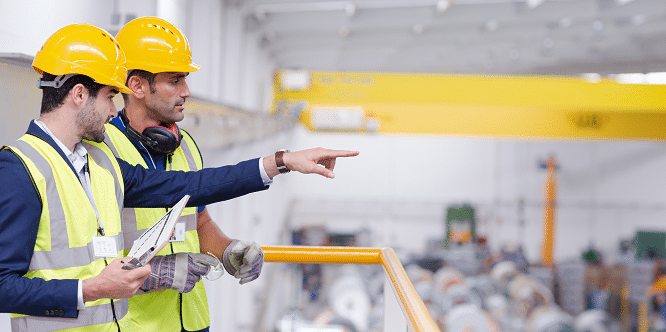 Common OHS Risks, Challenges, and Compliance Regulations in British Columbia
TAKEAWAY: Occupational health and safety regulations vary from province to province across Canada. In BC, occupational health and safety laws cover employers, employees, contractors, subcontractors, and volunteers. Workers' compensation claims are common in BC. But how do you prevent injuries from occurring in the first place? And once they happen, how do you ensure you comply with the regulations?
This article looks at the most common risks, challenges, and compliance requirements related to occupational health and safety in BC. We'll start by identifying the province's major economic sectors and regulatory bodies. Next, we'll explore some primary health and safety risks BC employers face before discussing the occupational tests employers in this province can consider.
Top Economic Sectors in British Columbia (BC)
Top sectors include agriculture, construction, film and television, fisheries and aquaculture, forestry, high technology, manufacturing, mining, and tourism. The cannabis and clean technology industries are also notable sectors.
BC's cannabis sector alone generates over $2 billion per year for the local economy, although much of this still occurs through unlicensed businesses.
Highly productive industries in BC include the natural resources and utility sectors. Although the utility sector has high labour productivity, it only contributes a minor amount to the overall GDP.
The natural resource industry includes forestry, mining, oil and gas extraction, agriculture, fishing, and energy sectors. Making up around half of BC's economic base, these industries are primarily responsible for bringing money into the local economy by exporting goods and services.
Other significant sectors include manufacturing activities, at around 16 percent of export earnings, and transport and logistics services, at about 14 percent. Also notable are the tourism, high technology and film, finance, insurance, and real estate industries.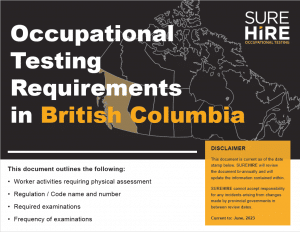 Complimentary Resource! Understand Occupational Testing Requirements in BC!
This document outlines the following:
• Worker activities requiring physical assessment
• Regulation / Code name and number
• Required examinations
• Frequency of examinations
Regulatory Bodies in BC
BC employers must be informed about national and provincial workplace health and safety regulatory bodies. The Occupational Health and Safety (OHS) Regulation of British Columbia is the primary source of law governing workplace health and safety.
WorkSafeBC (WSBC) is a provincial agency that enforces the standards set by OHS in all workplaces except mines and federally-regulated workplaces. Mining industry employers should refer to the Mines Act, and the accompanying Health, Safety and Reclamation Code for Mines in British Columbia, and federally-regulated employers can follow Employment and Social Development Canada guidelines.
WSBC educates workers and employers about safe work practices and covers:
Financial compensation for ill or injured workers, including lost wages and healthcare costs
Safety policy development and education to prevent workplace injuries
Mandatory insurance for all BC employers to cover injury prevention activities and compensation for injured workers.
WSBC enforces the Occupational Health and Safety Regulation, which covers the legal requirements for BC workplaces, except mines and federally-regulated workplaces. It also follows the legal framework established by the Workers' Compensation Act.
WSBC offers several resources for workplaces, including:
BC employers should also be familiar with current guidelines from occupation-specific regulatory bodies.
Unique Health and Safety Risks and Challenges for BC Employers
According to WSBC, workers in this province missed 3.65 million days of work due to occupational injuries and illnesses in 2021. Over 140,000 work-related injuries were reported to WSBC in 2021, and they accepted 162 work-related death claims.
Muscle strains were by far the most common type of work-related injury claim, with more than 30,000 accepted claims for muscle strains. Over 10,000 were for back strains, and a little under 20,000 were related to other body areas.
Industry sub-sectors with the highest number of claims and lost work time included health care and social services, general construction, retail, accommodation, food, and leisure services.
Given the high risk of musculoskeletal injuries, BC employers must understand the most common causes and how to prevent them. Many of the highest-risk sectors for occupational injuries are also BC's most significant economic sectors.
[Employers can learn about industry-specific occupational injuries and how to minimize the risks in the mining, manufacturing, transportation, and oil and gas sectors].
Common Types of Occupational Tests for BC Employers to Consider
Occupational testing can profoundly impact health and safety culture in the workplace. It identifies the specific risks and unsafe behaviors in industries, including mining, forestry and agriculture, oil and gas, and transportation, and helps employers and employees overcome these risks.
Choosing the ideal types of occupational testing alongside a solid health and safety program can reduce injury and fatality rates. Considering BC's top economic sectors, audiometric testing should be crucial for employers in several of the province's industries.
Mining, oil and gas, manufacturing, transportation, and forestry and agriculture employees work in loud environments where audiometric testing may be required to help prevent noise-induced hearing loss (NIHL). Employers can provide a baseline and periodic hearing tests and supply hearing protection such as earmuffs or custom-molded ear plugs to help protect workers.
Many of BC's top industries, such as construction, manufacturing, transportation, and utilities,  include highly safety-sensitive roles. Employers in these sectors may require drug and alcohol testing services and Reasonable Suspicion Training. On-site testing, also known as mobile testing, offers a fast turnaround and reduces downtime for employers in these industries.
Employers in several of BC's main sectors should consider Fitness to Work Testing to ensure the worker is a good fit for the position. For example, pre-employment Fitness to Work Testing for construction and oil and gas workers helps ensure employees have sufficient strength to work in a physically-demanding job role. Manufacturing workers may have an increased risk for repetitive strain injuries and, therefore, can also benefit from Fitness to Work Testing.
The mining industry often exposes workers to dangerous substances that require employers to implement a lung health testing program. Lung health testing services can include questionnaires, chest x-rays, Respiratory-Fit Testing, and spirometry testing.