Better Insights. Better Teams.
Employers in over 100 countries use TalentClick behavioral assessments to hire and train top performers. See for yourself why!
SureHire is a proud marketplace partner of TalentClick, a global leader specializing in predictive analytics arising from employee behavioral assessments.
TalentClick has bundled 4 of their most popular assessments into one easy-to-use survey, providing employers deep pre-hire and coaching insights within minutes. Their Attitudes-Values-Personality (AVP) assessment offers an opportunity to understand what makes your workers tick and how their personality traits affect workplace success. A unique focus on behavioral risk will help identify the likelihood of people's inherent "default settings" for positivity, conformity, achievement orientation, responsibility, communication, coachability, aggression, distractibility, and more.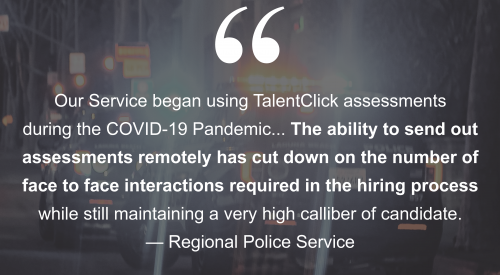 Hire & Develop Better Workers.
Focus on Front-Line Workers
Do you have a high number of employees in front-line positions?
Get predictive data on ALL your front-line workers and job applicants, instead of assessing only new hires at intermediate and senior levels due to cost restraints.

Use over 100 different benchmarks (some call them 'performance models') to predict top-performers and desirable behaviors in front-line positions in all types of industries. When these 'ideal-score ranges' are overlaid atop an applicant's assessment results, it gives your recruiters and hiring managers a quick snapshot on "fit" to the position, something that's important when handling high volumes of applicants on the front lines of your organization.
Get started with Your Free Attitude-Values-Personality (AVP) Assessment! (10-15 Minutes to Complete)
5 Reasons to Use TalentClick
1. Affordable Subscriptions
It's time to save you some money. Subscriptions are so affordable, you can test as many job applicants and current employees as you want, and the price won't change. Go ahead, test everyone and get multiple reports for each participant.
2. Focus on Front-Line Workers
Get predictive data on ALL your front-line workers and job applicants. Use over 100 different benchmarks to predict your top performers and desirable behaviours in front-line positions in all types of industries.
Employer reports provide supervisors with valuable advice on how to understand, coach, and communicate with each team member. Participant reports can be used as part of your broader training and development program.
90% of workplace incidents are caused by improper human behaviours. Get predictive data on which job applicants are higher risk and decrease the negative outcomes such as bad attitude and absenteeism in your workplace.
5. Personalized & Customizeable
Get customized solutions to fit your unique company, industry, job types, and corporate values. Enjoy flexible options for branding, customized questions, detailed reports, tailored performance-management tips, and more.