About Custom Moulded Earplugs
A custom earplug is a laboratory-made earplug made from moulds taken by trained, experienced professionals. Most often, ear impressions are made of acrylic or soft silicone that can fit the ear tightly. Softer earplugs change shape with the wearer's ear canal, continuing to seal during activities such as talking and chewing. While disposable earplugs may seem like a quick fix, it is important to consider the costs associated with ongoing replacement, infection due to overuse, damage resulting from improper use, and your employees' overall comfort level. These risks ultimately lead to a negative impact on your workers' productivity.
Our custom moulded earplugs are made of medical-grade silicone that is soft and durable enough to last 5 years or more with proper care. They also come with a protective case to prevent accidental loss. With a variety of styles to choose from, that can be customized to ensure appropriate attenuation, you can feel confident knowing your employees will be safe, healthy, and productive on the job.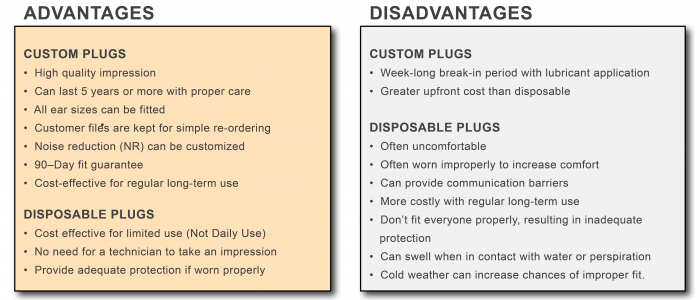 Our Earplug Styles
Hearing loss is typically painless. If you have that stuffed up feeling in your ears, don't ignore it! Our custom earplugs come in a wide variety of styles to meet your worker's individual needs. Check out some of our most popular styles:
Class A: Solid Plug*
Class B Adjustable Filtered Plug*
Class B & C Filtered Earplug*
Sleeper Earplug*
In-Ear Monitors
Audiofuse Custom Earbuds
Communications Ear Mould
* Styles have varying Noise Reduction Ratings (NRR) & Attenuation Data.
On-Site Mobile Services
At SureHire, we know that getting your employees to a facility is not always convenient. That's why we are proud to offer mobile testing services to our clients. Whether you're in a remote location, require a large number of tests, or are simply looking for added flexibility in your testing experience, our mobile fleet gives you access to occupational testing right on the job. Contact us to learn more.
FAQs
Where can I get ear moulds made?
Ear moulds can be made in our Edmonton, Alberta facility. Our mobile fleet is also equipped to complete this process, so you can reduce downtime.
How long does it take to get plugs?
Moulds take only about 15 minutes to complete. Once moulds have been taken, custom plugs take about 2‒4 weeks to receive and can be shipped directly to your job site, head office, or directly to your employee's home.
How do you wear custom plugs properly?
Earplugs should be twisted into place with the canal portion inserted first and with the earplug rotated backwards until they 'lock' in place. To remove plugs, do a reverse twist. it is important not to pull them straight out, as the vacuum created could cause damage to the eardrum.
Custom-moulded earplugs are typically delivered in a protective storage/carrying pouch and will be accompanied by a tube of lubricant (most often petroleum jelly). The lubricant should be applied to the earplugs during their initial use/break-in period. The lubricant makes the earplugs easier to insert and also softens the interface of the earplug and ear improving comfort. After about 10 uses with the lubricant, applications can stop as the silicon should have absorbed enough material to be easily inserted for the life of the earplug.
Get in Touch
More Information? Require a Quote?
Find a location!
Find a location nearest to you.